Eighty-five percent (85%) of all traditional Medicare payments may be linked to quality or value outcomes by 2016 with the number growing to 90% by 2018.1 Through the Hospital Value Based Purchasing and Hospital Readmissions Reduction Programs, providers of care will be focused on increasing the quality of care to meet these Medicare objectives. In support of these goals, adopting enteral nutrition evidence based resources and protocols can demonstrate the value nutrition can play in helping hospitals to achieve these goals.
IMPLEMENT NUTRITION QUALITY IMPROVEMENT PROJECTS

ENact™ Quality Improvement (QI) Program
Education on how to conduct Quality Improvement projects
Downloadable resources to help develop nutrition QI projects
Library of implementable nutrition projects focused on Critical Care, Surgery and Malnutrition
For further information, click here
ENact™ QI Grant
Funding to support QI projects addressing the delivery of enteral nutrition care
Focus on projects related to the delivery of tube feedings or oral supplements in the adult and pediatric population
For further information, click here.
ENact™ QI Training Course
For Registered Dietitian Nutritionists (RDNs) interested in developing and implementing an enteral nutrition QI project
Brings together a small group of RDNs and a Course Leader for group and individual work sessions
Upon completion of the course participants will be prepared to execute a QI project in their institution
For further information, click here
PROACTIVELY ADDRESS MALNUTRITION RISK
Utilization of standardized orders and algorithms may be useful resources for the effective use of enteral nutrition and managing risk for malnutrition.

Establishes standardized protocol for initiating nutrition therapy
Coordinates activities between dietary, nursing and the medical team for increased efficiencies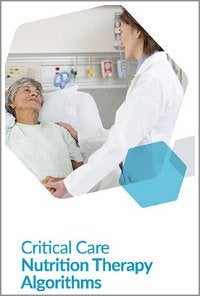 PROVIDE EARLY AND ADEQUATE NUTRITION SUPPORT
Implementation of an evidence based, 24 hour volume-based feeding enteral nutrition protocol may help patients achieve feeding goals through early and adequate nutrition.


PEP uP: Increased Protein and Energy Delivery
Daren Heyland, MD, FRCPC, MSC
41 minutes
Introduces strategy for optimizing calories and protein delivered to ICU patients
Reviews results of PEP uP trial and discusses protocol implementation
Contact your Nestlé Sales Representative for further information on the PEP uP Protocol and the PEP uP DVD
DECREASE RISK FOR SURGICAL SITE INFECTIONS
Hospital Acquired Conditions (HAC) may put Medicare reimbursement levels at risk as the Centers for Medicare & Medicaid Services (CMS) does not pay for incremental costs related to the treatment of a HAC.3 Recognizing that up to 54% of all hospital acquired infections (HAI) occur in high-risk surgery populations,4 implementing an evidence based, peri-operative nutrition protocol incorporating the use of IMPACT ADVANCED RECOVERY® and IMPACT® PEPTIDE 1.5 formulas may help reduce the risk for surgery site infections.
Contact your Nestlé Sales Representative for further information.
Guidelines summarized from McClave SA, Martindale RG et al. Guidelines for the Provision and Assessment of Nutrition Support Therapy in the Adult Critically Ill Patient. Society of Critical Care Medicine (SCCM) and American Society for Parenteral and Enteral Nutrition (A.S.P.E.N.). JPEN. 2009;33(3):277-316.
Richards et al. Infect Control Hosp Epidemiol. 2000;21:510-515.
*The above statement does not constitute an endorsement of IMPACT® products or any other Nestlé HealthCare Nutrition product by SCCM or A.S.P.E.N.