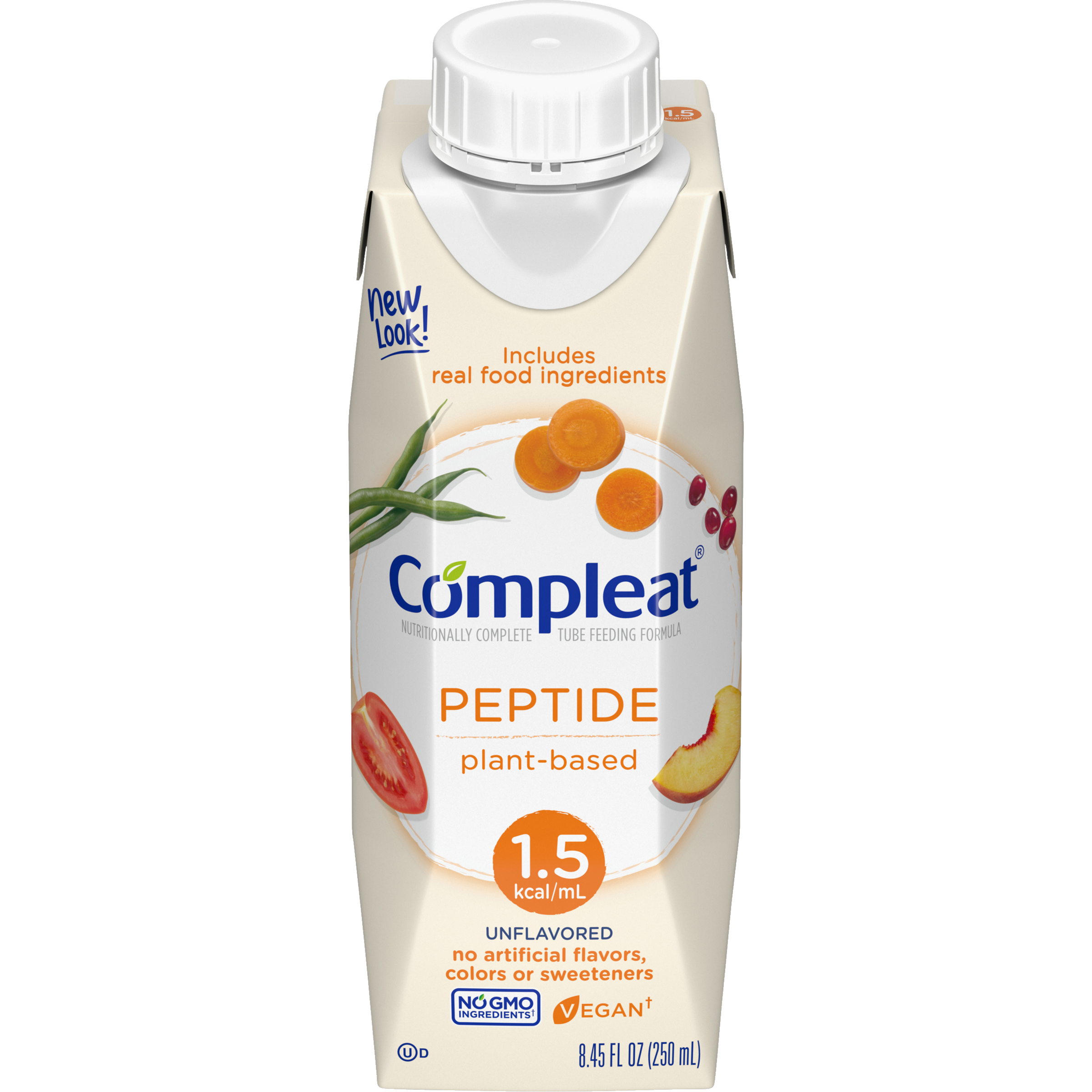 Nutritionally complete plant-based and peptide-based tube feeding formula
• Real food ingredients
• Plant-based and vegan*
• None of the common food allergens
• Peptide-based for intolerance
*Visit www.Compleat.com/policies for our policies on genetically modified and/or vegan ingredients.
Nutritionally complete plant-based and peptide-based tube feeding formula
• Real food ingredients
• Plant-based and vegan*
• None of the common food allergens
• Peptide-based for intolerance
*Visit www.Compleat.com/policies for our policies on genetically modified and/or vegan ingredients.
Key Benefits
Includes a variety of real food ingredients, such as tomatoes, peaches, green beans, cranberry juice concentrate, and carrots
Provides approximately 1.5 cup equivalents of fruit and vegetable per 1000 mL
Plant-based and non-GMO* Ingredients; no dairy, soy, nut or other common food allergens; no corn ingredients
Hydrolyzed pea protein and added L-cystine provides a PDCAAS of 1
Contains soluble and insoluble fiber to help support digestive health and normal bowel function
40% of fat source as MCT to promote absorption and tolerance
Nutritionally complete formula for tube feeding or can be consumed orally
Notes & Disclaimers for Key Benefits (Healthcare Professionals)
*Made without genetically engineered ingredients in accordance with our non-GMO policy at www.Compleat.com/nongmo
Nutritional Features
COMPLEAT® PEPTIDE 1.5 Unflavored

kcal/mL

1.5
Caloric Distribution Protein (% of kcal)

Protein 19%
Carbohydrate 38%
Fat 43%

L-Arginine (g)

L-Glutamine (g)

Sodium (mEq)

14

Calcium (mEq)

15

Potassium (mEq)

15

Chloride (mEq)

12

NPC:N Ratio

103:1

MCT:LCT Ratio

40:60

n6:n3 Ratio

7.6:1

Free Water (%)

76

Dietary Nucleotides (g)

EPA + DHA (g)

Source of Oil

Osmolality (mOsm/kg water)

720

Density (g/mL)

Renal Solute Load (mOsm/L)

mL to Meet 100% DRI

ARA (mg)
Nutritional Applications
Short- or long-term tube-feeding regimen for those who require or prefer a plant-based formula with real food ingredients
May help address feeding intolerance common in individuals with developmental disabilities
Malnutrition
Common/Multiple food allergies
Elevated calorie requirements
Shortened feeding schedule
Volume intolerance
Important Notes:
NOT FOR PARENTERAL USE
This product is intended for use under medical supervision.
Flows easily for pump-assisted feeding.
Suitable for the following diets
Dairy-free
Lactose-free
Gluten-free
Plant-based
Kosher
Protein Source
Hydrolyzed Pea Protein Isolate
L-Cystine
Fat Source
Medium Chain Triglycerides
Canola Oil
Sunflower Oil or High Linoleic Safflower Oil
Carbohydrate Source
Brown Rice Syrup
Fruits and Vegetables
Partially Hydrolyzed Guar Gum
Fiber Source
Fruits and Vegetables
Partially Hydrolyzed Guar Gum
Ingredients
WATER, BROWN RICE SYRUP, HYDROLYZED PEA PROTEIN ISOLATE, FRUIT AND VEGETABLE BLEND (TOMATO PASTE, PEACH PUREE, GREEN BEAN POWDER, CRANBERRY JUICE CONCENTRATE, CARROT POWDER), MEDIUM CHAIN TRIGLYCERIDES, AND LESS THAN 2% OF CANOLA OIL, SUNFLOWER OIL OR HIGH LINOLEIC SAFFLOWER OIL, VITAMINS AND MINERALS*, PARTIALLY HYDROLYZED GUAR GUM, L-CYSTINE, SALT, TAURINE, L-CARNITINE

*VITAMINS AND MINERALS: POTASSIUM CITRATE, POTASSIUM CHLORIDE, SODIUM ASCORBATE, SODIUM CITRATE, CALCIUM PHOSPHATE, CHOLINE CHLORIDE, MAGNESIUM OXIDE, ZINC SULFATE, DL-ALPHA TOCOPHERYL ACETATE, FERROUS SULFATE, NIACINAMIDE, CALCIUM PANTOTHENATE, MAGNESIUM PHOSPHATE, PYRIDOXINE HYDROCHLORIDE, THIAMINE HYDROCHLORIDE, MANGANESE SULFATE, COPPER SULFATE, RIBOFLAVIN, BETA-CAROTENE, VITAMIN A PALMITATE, FOLIC ACID, CHROMIUM CHLORIDE, POTASSIUM IODIDE, SODIUM MOLYBDATE, SODIUM SELENATE, VITAMIN K1, BIOTIN, VITAMIN D3, VITAMIN B12
DRI Coverage
Meets or exceeds 100% DRI for 23 key vitamins and minerals: Adult (+14 years old), 1000 mL
Product Codes
| | | |
| --- | --- | --- |
| | COMPLEAT® PEPTIDE 1.5 Unflavored 24 x 250 mL | COMPLEAT® PEPTIDE 1.5 Unflavored 6 x 1000 mL |
| HCPCS Code | B4153 | B4153 |
| NDC-Format Number | 43900-0407-22 | 43900-0338-71 |
| Case UPC | 00043900762838 | 00043900617152 |
| Each UPC | 00043900407227 | 00043900338712 |
| Product Code | 4390076283 | 4390031715 |